Click on one of the links below to visit a gallery of paintings available for sale:
Main Gallery | English Collection | Western Collection |
Horses at Liberty | Equestrian Essentials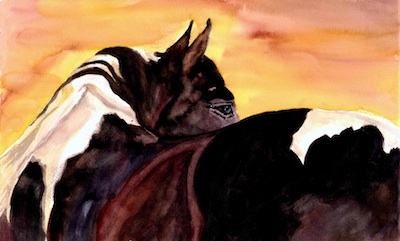 The horse paintings are created with beautiful flowing watercolor using rich color that is obtained by layering the transparent media.
The warm palette used increases the depth of feeling for these magnificent animals. Melanie's horse paintings have been shown throughout the US at various juried art shows and are award winners. Some venues include the Washington State Thoroughbred Association, Western States Horse Exposition, Northwest Watercolor Society, New Jersey Equestrian Art Association, St Louis Artist's Guild, Tennessee Art League, Big Splash in St. Peter's Missouri, and many others. Some of the horse paintings have been published in horse magazines, such as Equine Visions, Sporting Art – Polo Players edition , and a cover for the Northwest Horse Source. These horse paintings can occasionally be seen at Horse Expositions, Home Shows, restaurants and horse shows. For a private viewing just email the artist to arrange an appointment or subscribe to this site for updates on showings or vendor booths appearances. Prices range from $250 to $2000. Horse Paintings are shipped by Fed Ex and will be insured for the amount of purchase.