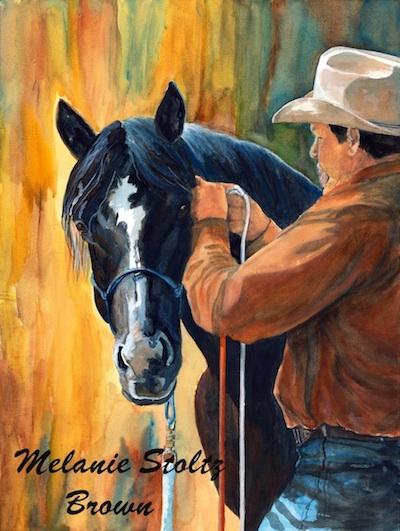 My new painting titled "Partners" depicts Pat Parelli and one of his super horses, Casper. I am very honored that "Partners" was selected for auction at the Parelli Horse and Soul Tour Stop in Harrisburg PA, March 31st – April 1st at the Pennsylvania Farm Show Complex. Casper, a black stallion, is one of Pat's most difficult horses ever. Pat and Casper have astounded audiences with their amazing relationship and expertise at tour stops. Casper has been my favorite of the Parelli's horses to date, though he is now retired. This amazing relationship inspired my painting.
100% of the proceeds from the sale will be donated to the Parelli Scholarship Fund. This fund is Pat's vision to help ANYONE with heart and desire to become a Parelli Professional without a money barrier. Parelli Foundation has selected me as a contributing artist for this program, so you will see more of my paintings of Pat, Linda, and their super horses for donations in upcoming auctions!
We hope you can attend the event, and bid on Partners for this wonderful Parelli Scholarship Fund!
Giclee prints are also be available here on the website.
Leave a Reply
You must be logged in to post a comment.